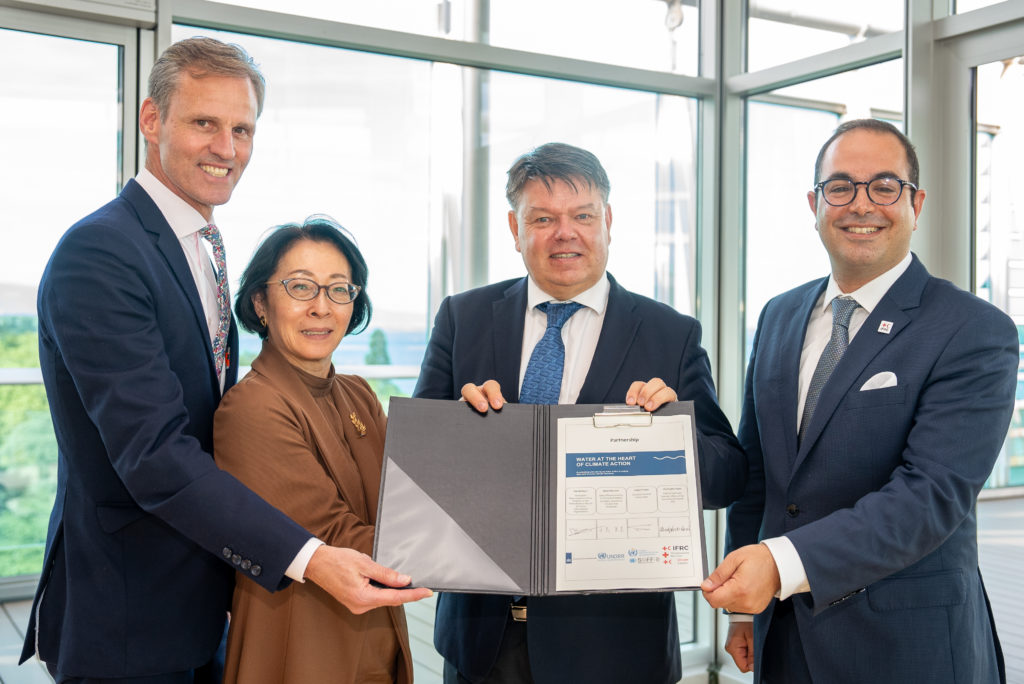 Geneva, 22 September 2023. As proved so tragically in Libya last week, while water holds the key to life, all too often it kills.
Whether – like in Derna – it's too much water leading to floods, or too little water causing droughts, or polluted water resulting in health risks, addressing the dangers that water poses can save lives. As climate change intensifies these threats, there is an urgent need for action.
That is why a new collaboration matters so much.
With funding and support from the Kingdom of the Netherlands 'Water at the Heart of Climate Action' is an ambitious partnership between the International Federation of Red Cross and Red Crescent Societies (IFRC), The Netherlands Red Cross, the United Nations Office for Disaster Risk Reduction (UNDRR), the World Meteorological Organization (WMO) and the Systematic Observations Financing Facility (SOFF).
This collaboration will combine local knowledge and global technology to help communities understand and act on the water-related risks they face – before they become disasters. The programme is focused on supporting the countries of Ethiopia, South Sudan, Sudan, and Uganda, which make up the Nile River basin. These countries are not only among the Least Developed Countries in the world but are also highly vulnerable to the impacts of climate change. To ensure the implementation of this five-year partnership, the Government of the Netherlands has generously committed 52 million Swiss Francs (55 million euros).
The aim of the 'Water at the Heart' collaboration is to address climate-related risks that too often fall between the cracks of most country-level water, sanitation and hygiene (WASH) policies. It will focus on practical, locally-driven action to better anticipate disasters and prepare communities well in advance. It will also use the latest science and technology to monitor and forecast weather and water-related hazards. It furthermore invests in communications technologies to warn communities of what is coming and enable early action. As a result, this programme is a direct contribution to the implementation of the UN Secretary General's 'Early Warnings for All' initiative.
Jagan Chapagain, the Secretary General of the IFRC said:
"Water is life. But too much or too little water can wreak havoc on people's lives and homes. Almost three-quarters of all recent humanitarian disasters were water related. This initiative makes mitigation of the impact of such disasters an absolute priority. With thousands of IFRC network volunteers across South Sudan, Sudan, Ethiopia and Uganda, the IFRC network is uniquely positioned to deliver innovative and trusted local action. Through our partners, those actions can be informed by technology including the best forecasting and observation. This really is a 'sandbags to satellites' all-encompassing initiative."
Mami Mizutori, the Special Representative of the UN Secretary-General for Disaster Risk Reduction, and the head of UNDRR said:
"To save lives, lift people out of poverty and ensure that development gains are sustainable and irreversible, we must stop hazards from becoming disasters. Water at the Heart of Climate Action is a demonstration of the commitment of the Netherlands to helping some of the most vulnerable countries build their resilience in the face of climate change."
Maarten van Aalst, Director General of the Royal Netherlands Meteorological Institute (KNMI) said:
"As a national Meteorological Institute, we see the rapid increase in weather extremes in our changing climate, and we realize that we need partnerships all across society to make sure our warnings lead to early actions. The Netherlands' vulnerability as a low-lying delta is significantly reduced by the power of good data and predictions, and the ability to act on that information — from satellites to sandbags. Water at the heart will strengthen our peers in the Global South to deliver similar services, and KNMI is proud to be supporting those efforts with peer support."
WMO Secretary-General Prof. Petteri Taalas said:
"The majority of hazards are water-related, particularly floods and droughts. Climate change will further increase the frequency and severity of these events. End-to-end early warning systems are critical to save lives and minimize the impact of disasters. WMO is working with SOFF to close the basic weather and climate observation data gap and strengthen the foundational element of better data for better forecasts. Water at the Heart of Climate Action will make a tangible contribution to the Early Warnings for All initiative."

Paul Bekkers, Ambassador, Permanent Representative of the Kingdom of the Netherlands to the UN, WTO and other international organizations in Geneva, said:
"Water should not be posing risks to vulnerable frontline communities! On the contrary, we can empower communities to transform water from a hazard into a valuable resource. By leveraging indigenous knowledge and investing in early warning systems. The Netherlands proudly supports this partnership that places the needs of local communities at the heart of water action!"
More about Water at the Heart of Climate Action initiative here.
FOR INTERVIEWS WITH THOSE INVOLVED, PLEASE CONTACT VIA THE DETAILS BELOW
IFRC – Andrew Thomas / media@ifrc.org / +41763676587
CLIMATE CENTRE – Alex Wynter / wynter@climatecentre.org / +447717470855
WMO – Clare Nullis / cnullis@wmo.int / +41797091397
SOFF – Pauline Trepczyk / ptrepczyk@wmo.int / +41796407857
UNDRR – Jeanette Elsworth / jeanette.elsworth@un.org / +41766911020
PERMAMENT REPRESENTATION OF THE NETHERLANDS – Joyce Langewen / joyce.langewen@minbuza.nl / +41794486110
NETHERLANDS RED CROSS – Bastiaan van Blokland / persvoorlichting@redcross.nl / +31704455612
YOU MAY ALSO LIKE...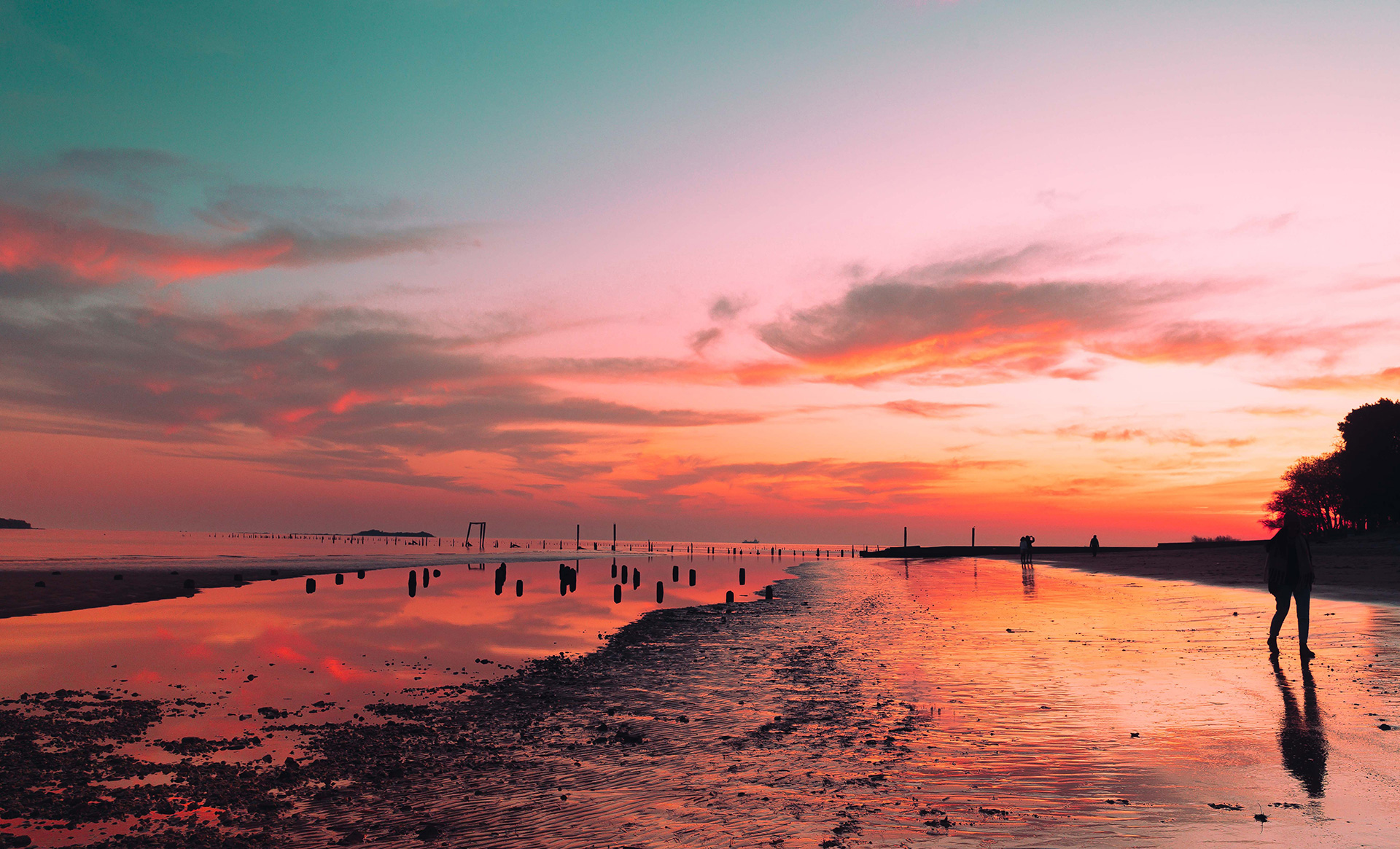 Press Release
Three UN Agencies Announce New Financing Mechanism to Boost the International Response to Climate Change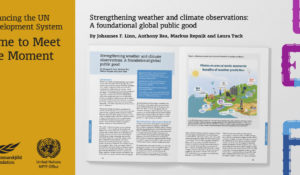 Press Release
Strengthening weather and climate observations: A foundational global public good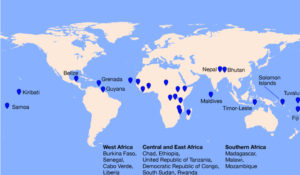 Press Release
ECMWF supports SOFF to provide more weather observations